For the first time in the last month or so we get to sleep in the same bed twice. Result! Better make it a good'un then. We book ourselves into the hotel opposite the House of Blues. Two plush rooms with 4 comfy beds. No hot tub unfortunately but I can't complain.
Michael and Rosco decide to join Nathan from Flogging Molly for dinner at the Green House Tavern whilst the rest of us get a bite quickly and jump into the nice big white comfy beds! They eat everything on the menu and report that it was one of the best dinners they ever had.
I have pigs tongue and wings for breakfast and you know what, I think I quite like tongue!
Next day we had two TV things to do so we're up early and go do our stuff then head straight to the venue for sound check. I do my usual workout at this time and have a beer.
Theres fun as Rosco stands on the barricades to play drums, Michael waltzes in the crowd and I pass the Flagon around. The crowd goes absolutely crazy for Flogging then we all go to an Irish pub to play some tunes and drink more. I didn't expect to be drinking straight tequilas, be offered a foursome, dance on tables or chip a tooth but all happened!
Surprisingly I didn't feel too bad waking up. Fortunately it's a day 'off' or rather a whole day travelling to philadelphia to see our old friend Maura Anne.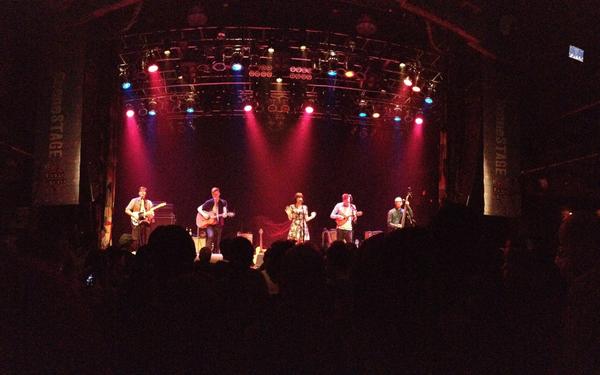 Still in the car after 8hours with another 2 hours to go. It has rained the whole way. We have been bored, hence, listening to self help audio books on how to kiss goodbye to your comfort zone.